Our Shelter provides a temporary home for over 35 dogs and puppies, crossing the spectrum of breeds and sizes. Come visit them and speak to one of our knowledgeable attendants about bringing a shelter dog home today.
---
Adoptions:
 Dogs: $175; Puppies $295 and up.
Call 845-331-5377 x214
---
Available Dogs and Puppies
count(page_images)10
Mia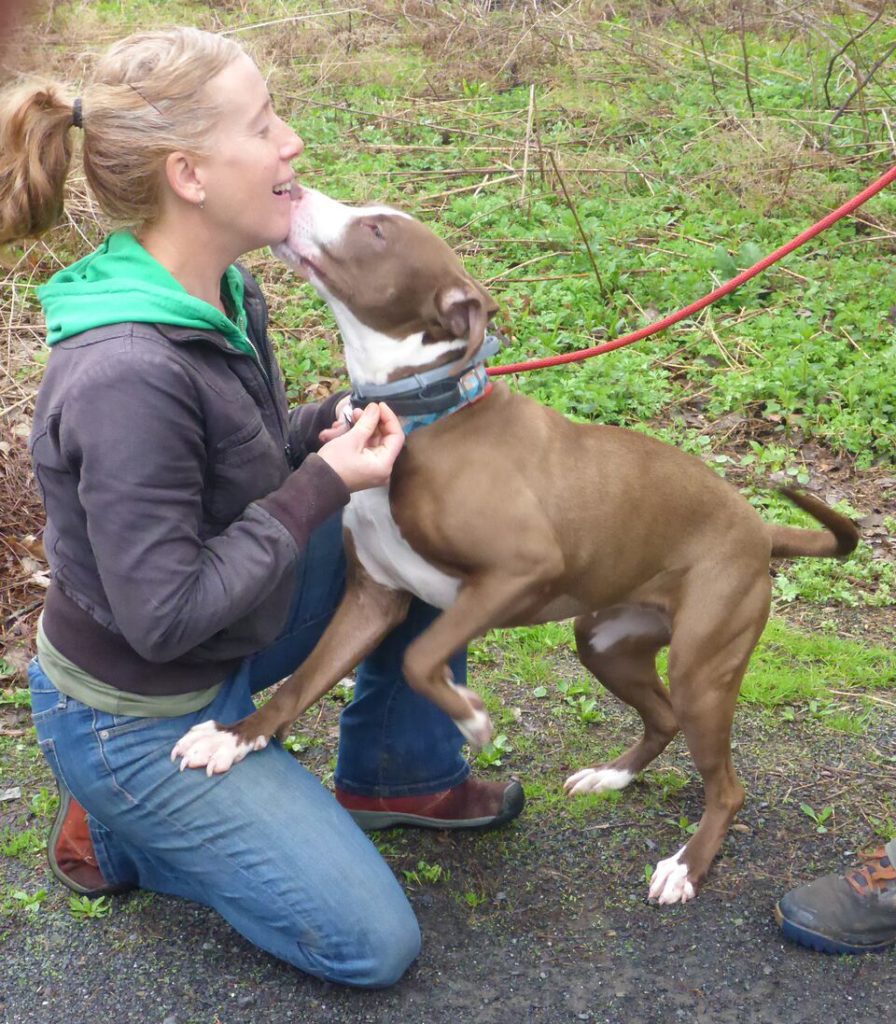 Izzy
Starboy
Smoke
Silver
Romeo
Molly
Max
Chalupa
Buddy

Mia

Mia is a 3 year old Pit mix! She's an independent girl that loves being outside. Mia is affectionate with those that she trusts, and would love to find an outdoorsy couple or single person to call her own. Mia does not like to share her food or toys with others, so someone that can respect her space would be great! Mia would like to be the only animal in the household, and does best with adults!

Izzy

Well someone looks happy! Meet Izzy, AKA Isabelle. This 1 year old female is a Mixed Breed that loves to play! She knows sit, down, place, and roll over. She loves Frisbees, so if you like to play, then she's the girl for you! Izzy likes larger dogs, and may do well with cats (still in evaluation stage), and she would do well with older children, as she can be slightly mouthy when overstimulated! Come meet Izzy today!

Starboy

This handsome champion is a 2 year Pit mix. He loves to be walked and thoroughy enjoys getting love from his humans. He may do well in a house with dogs and cats, depends on their disposition. We suggest older children with Starboy, as he can be mouthy and jumpy!

Smoke

Smoke is a 1 year old Pit mix. He is great with dogs, he may do well with cats, and he's great with kids! Smoke is sweet and smart; he likes walks and is an angel on the leash. He would be a great dog in any household!

Silver

Silver is a 6 year old male, Pit mix. Silver is great with dogs and children, although he does not like cats! Silver is very friendly, affectionate, playful, and easy to walk! He is housebroken, but needs to be taken out frequently due to a past surgery. Silver would love a family that will love and spoil him!

Romeo

Romeo lives up to his name. This affectionate boy is 2 year old Pit mix. He enjoys playing with toys, going for walks with his favorite volunteers, and of course giving kisses! He may do well in a home with dogs, and cats, it will depend on their personality! We suggest him with older children, as he can display some resource guarding.

Molly

Molly is a beautiful 8 year old Mixed Breed. This happy and smiley girl is new to the shelter; she can be a tad bit shy upon introduction, but that goes away real quickly once she smells you! She does best with larger dogs, she may be OK with cats, and she is great with kids! Come say hello to this happy girl.

Max

Maxwell is a 3 year old Pit mix! He is great with kids and some dogs, although Max does not like cats! Maxwell loves people and is super affectionate. He loves to be outside, and go for walks with his favorite volunteers! Max is a gentle giant, and would do best in a home that has patience and lots of love for him to indulge in.

Chalupa

This 3 year old Chihuahua needs someone willing to build trust, and develop a relationship with him, before going home. He may be good with dogs and cats (depending on their personality), however, he would not be good with young children. Chalupa can be fearful of humans due to his past, but he is learning quickly that they can be good!

Buddy

Buddy is a 7 year old Mixed Breed! He loves to go for car rides, long walks, play with his toys, and give kisses. He'd be best in a home with no other animals or children. A nice single adult or an adult only household, would be perfect for him! Buddy is looking for a calm and low traffic household.

Trix

8 year old Mixed Breed. This happy and chunky man loves humans of all ages! He gets along with dogs and cats, too! He pulls a little bit on the leash, so a nice strong walker is important, or a fenced in yard! He loves to give kisses, even though his breath isn't the most pleasant; we won't tell him. 😉

Tink

10 year female, lab mix. Currently in foster care, with one of our volunteers. Please call the shelter for more information!

ROSE

Rose! This little lady is a 7 year old Pit mix. Rose loves to cuddle and give kisses to everyone! She is great with adults and children, giving love to all. She may do well with dogs and cats, it will depend on their disposition.

Diva

Diva is a lovable girl that needs some serious play time! She would prefer a home free of other dogs or cats.

Sandy!

Sandy is an active Pit mix around 3 years old. He loves to be pet, cuddled, kissed, and played with... THE WORKS! He is learning how to use a leash for the first time, and he's making great strides! It can be tough learning how to be a dog! Sandy is dog selective, he would be best in a home without cats, and he would do well with older children. Sandy is extremely friendly, although he can be very high energy and will require some leash training. He enjoys working with our trainer on his newest commands, sit and down. Sandy is extremely responsive to training, and is very eager to learn!

Buster!

Buster- Rottie mix. This 1 year old male is a giant puppy! He likes to jump, give kisses, play ball, and just be a big kid. He would be good living with social dogs, he cannot live with cats, and he would be best living with older children as he is very jumpy!
---
About our Application Process
Our application process requires all pets in the home to be vaccinated and spayed or neutered unless medical documentation as to why they cannot be is provided. Part of the reason we are here is because of pet overpopulation and we are committed to preventing more litters. All members of the family should be included in the adoption process. Dog introductions are provided at the shelter.
---