Our Shelter provides a temporary home for over 35 dogs and puppies, crossing the spectrum of breeds and sizes. Come visit them and speak to one of our knowledgeable attendants about bringing a shelter dog home today.
---
Adoptions:
 Dogs: $175; Puppies $295 and up.
Call 845-331-5377 x214
---
Available Dogs and Puppies
count(page_images)10
Charlie
Ellie
Missy
Kayla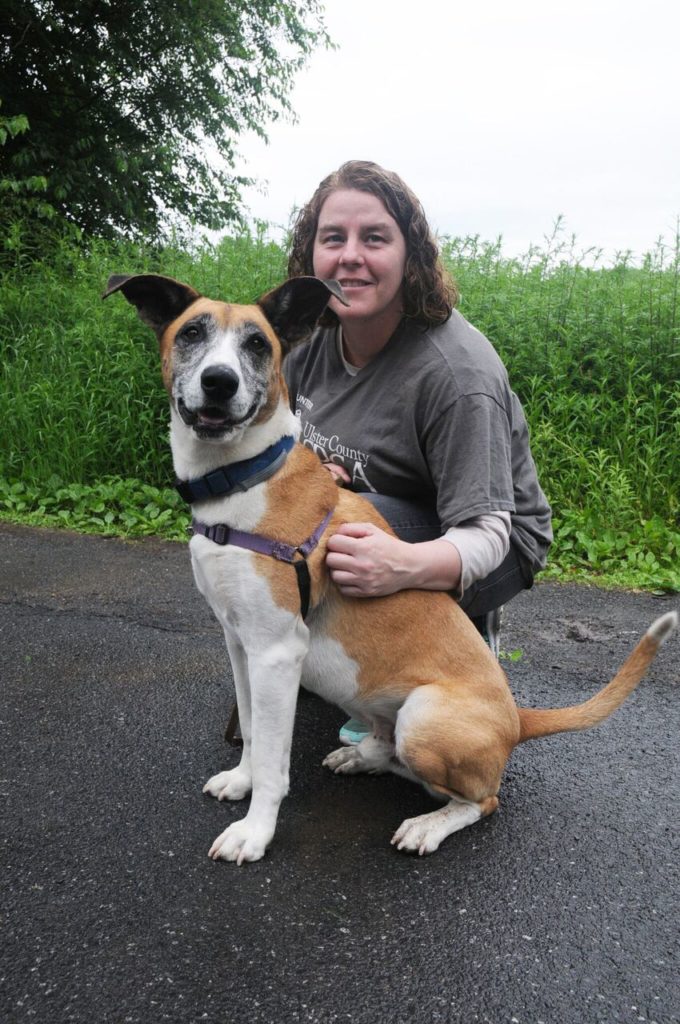 Buddy
Carlos
Scooby
Sandy!
Rose
Mia!

Charlie

Charlie Brown is a charmer here at the UCSPCA! He may look different on the outside, but his heart is no different than any other dog! Charlie would love a home where he can be the king of your household!

Ellie

Ellie is a super girly, 4 year old Pit mix. Her smile wins over everyone. She loves to be loved, and spoiled, and cuddled with, and admired, and all of the nice things that princesses enjoy! Ellie would love a home where she can be the only animal. She gets along great with humans of all ages!

Missy

More info soon!

Kayla

More info soon!

Buddy

Buddy is a 7 year old Mixed Breed! He loves to go for car rides, long walks, play with his toys, and give kisses. He'd be best in a home with no other animals or children. A nice single adult or an adult only household, would be perfect for him! Buddy is looking for a calm and low traffic household.

Carlos

More info soon!

Scooby

Scooby melts hearts, that's what he does; you meet him and your heart will melt into a million pieces. This affectionate boy would love nothing more, than to crawl into your lap and give you kisses for the rest of time, and we aren't kidding! Scooby would be best in a home without other animals, he really likes to be the only child! Scooby would be best in a home with older children, that already know how to handle doggies!

Sandy!

Sandy is an active Pit mix around 3 years old. He loves to be pet, cuddled, kissed, and played with... THE WORKS! He is learning how to use a leash for the first time, and he's making great strides! It can be tough learning how to be a dog! Sandy is dog selective, he would be best in a home without cats, and he would do well with older children. Sandy is extremely friendly, although he can be very high energy and will require some leash training. He enjoys working with our trainer on his newest commands, sit and down. Sandy is extremely responsive to training, and is very eager to learn!

Rose

Rose! This little lady is a 7 year old Pit mix. Rose loves to cuddle and give kisses to everyone! She is great with adults and children, giving love to all. She may do well with dogs and cats, it will depend on their disposition.

Mia!

Mia is a 3 year old Pit mix! She's an independent girl that loves being outside. Mia is affectionate with those that she trusts, and would love to find an outdoorsy couple or single person to call her own. Mia does not like to share her food or toys with others, so someone that can respect her space would be great! Mia would like to be the only animal in the household, and does best with adults!

Layla

Layla is a happy-go-lucky girl! She enjoys playing with her dog friends, and going for nice long walks. She loves to cuddle and hang out, so if you're looking for an easy going, friendly chick, Layla may be the girl for you!

Izzy

Well someone looks happy! Meet Izzy, AKA Isabelle. This 1 year old female is a Mixed Breed that loves to play! She knows sit, down, place, and roll over. She loves Frisbees, so if you like to play, then she's the girl for you! Izzy likes larger dogs, and may do well with cats (still in evaluation stage), and she would do well with older children, as she can be slightly mouthy when overstimulated! Come meet Izzy today!

Caesar

Caesar, like the salad, is fresh and fun! This cute 4 year old Mixed Breed will waddle his way into your heart. His low rider body makes it easy for him to get your attention, and get the love he deserves! Caesar may be good with dogs or cats, it will depend on their individual personalities! Caesar can be easily startled; so he would love to live with children over 10, that know how to properly act around dogs! Come meet this cute little sausage man today!

Silver

Silver is a 6 year old male, Pit mix. Silver is great with dogs and children, although he does not like cats! Silver is very friendly, affectionate, playful, and easy to walk! He is housebroken, but needs to be taken out frequently due to a past surgery. Silver would love a family that will love and spoil him!

Buttercup

Romeo

Romeo lives up to his name. This affectionate boy is 2 year old Pit mix. He enjoys playing with toys, going for walks with his favorite volunteers, and of course giving kisses! He may do well in a home with dogs, and cats, it will depend on their personality! We suggest him with older children, as he can display some resource guarding.

Angel

Angel is a special needs girl, that is looking for a patient home without animals or children. If you are looking to help out an older dog, in need of love and care, please ask us about Angel.

Tink

10 year female, lab mix. Currently in foster care, with one of our volunteers. Please call the shelter for more information!

Diva

Diva is a lovable girl that needs some serious play time! She would prefer a home free of other dogs or cats.
---
About our Application Process
Our application process requires all pets in the home to be vaccinated and spayed or neutered unless medical documentation as to why they cannot be is provided. Part of the reason we are here is because of pet overpopulation and we are committed to preventing more litters. All members of the family should be included in the adoption process. Dog introductions are provided at the shelter.
---